When to Regrout Instead of Retile
Home renovations are quite an exciting proposition, but they are also quite a destabilizing experience. Remodeling your bathroom, for example, means it will be off-limits for a couple of weeks as the plumbing needs to change along with the new layout. You are stuck using the bathroom at work and showering at the gym for the duration of the job, which is not something that can be sustained for long with causing great discomfort.
The same goes for the kitchen. A decision to replace the aging tile floor will put the heart of the home off limits for at least a few days. Depending on where you are in your professional and personal life, remodeling a room as important as the kitchen or bathroom might simply be too destabilizing. But what if all you had to do was regrouting tile? 
As it turns out, if you are still keen on improving the quality of tile in these all-important rooms, some interesting options present themselves. However, many ambitious homeowners think they need to replace what seems like aging tile when a thorough cleaning would actually be more than sufficient. Homeowners who explore their options will know that regrouting or a thorough cleaning is all they need – not a full new floor of tile. Here are a couple examples where cleaning or regrouting is a better decision than re-tiling: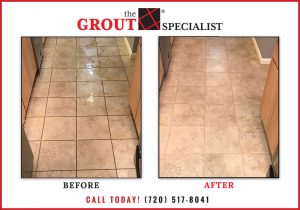 There are no cracks in the tile
If no cracks appear in the tiling, then you do not have any real risk attached to keeping them for longer. All they need is a thorough clean and perhaps some grout touch-ups, including a grout sealant.
The grout is dirty but not discolored
When discoloring emerges in grout, you have a pretty solid case for retiling. But you have an even better case for regrouting in the most compromised areas and getting a thorough clean of the entire floor. Most of the time, when it comes to flooring, discoloring is not a risk because exposure to water is not very high. The one exception here is bathroom flooring and shower flooring in particular. Otherwise, if your kitchen or bathroom floor is just dirty within the grout lines, then cleaning will do.
Avoid this costly and unnecessarily destabilizing experience of retiling a kitchen or bathroom and contact Grout Specialists today, the top regrouting tile professionals in Denver.