What Type of Tile is Ideal for a Kitchen?
Your kitchen is an area in your home that receives a lot of traffic. Dirt and bacteria are easily tracked into this area and food debris and spills are common. If you are considering tile replacement in your Denver home, what type of tile should you consider for this busy space? Let's look at a few options.
Ceramic Tiles
Ceramic tiles are common floor tiles because they feature a glazing that resists liquid and food well. Additionally, this type of tile is extremely easy to cut, making it easy to install on the floor and on countertops and backsplashes. However, while they resist liquids well, they are not the most durable tile options.
Porcelain
Porcelain tiles are also extremely easy to clean and maintain. These types of tiles are common on floors and backsplashes and come in a vast array of colors and styles, making them perfect for adding color and design to a space. If you desire this type of tile and want to install them on your own, be mindful that the installation process requires unique tools and equipment and it is a much more difficult installation process.
Stone
Stone creates a very rich and polished look to a kitchen. Stone is ideal for countertops and for floorings and is extremely durable. There are various types of stone such as granite and limestone, which help you create the look you desperately desire. However, this option requires additional maintenance and it is not as simple to clean as other materials. You must also seal and reseal the tiles every few years to protect the tiles and ensure they look their best.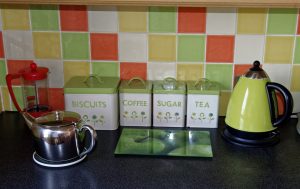 No matter what type of tiles you choose for your kitchen, it is important you keep them well maintained and looking their best. If damage occurs to your tiles — whether to a single tile or to a large area — that you call in the experts to complete tile repair in your Denver home.
For more information on tile repair and replacement, contact The Grout Specialists today at 720-517-8041 and let the experts handle your tile concerns.