3 Reasons You Should Call a Grout Cleaning Service
Over time, the grout in your home can become very grimy and discolored, creating an eyesore in your interior. It is a porous substance and traps in the bacteria and dirt that comes across it. To help restore your grout and properly sanitize it, you should call a professional grout cleaning service. Here are just a few reasons why this will be the most important call you can make.
1. They Have the Right Equipment
There are many DIY grout cleaning methods online that you may attempt to try, however, these methods are often ineffective and will do little good to properly sanitize and clean your grout. When you hire experts, they have the equipment and supplies to quickly and easily restore your grout and get it looking like new. They also have the team to get the job done quickly and ensure it is done well.
2. They Offer Eco-Friendly Options
Rather than use a plethora of harsh chemicals to scrub the grout in your home, the best grout cleaning services offer eco-friendly cleaning options to ensure your entire family and any household pets are safe. You will find that experts like The Grout Specialist in Denver use high temperature and low-pressure steam to properly clean and sanitize the grout.
3. They Are Trained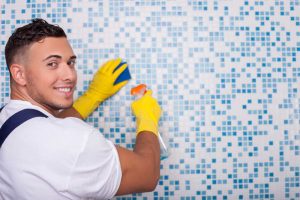 Grout is designed to strengthen the tiles in your home. It can chip and be easily damaged, which not only becomes an eyesore but can weaken your tiles and make them more prone to damage and breakage. Professionals are trained to restore the grout in your home without causing any damage and weakening it.
When was the last time the grout in your home was properly cleaned? Call an expert at The Grout Specialist today at (720) 923-8765 or click here to schedule your consultation and prepare to restore the grout in your home back to its pristine and like-new condition.