Why You Should Hire The Grout Specialist For Your Grout Cleaning Needs
Over time, the grout in your Denver home becomes dirty and grungy. Grout is a porous substance and it absorbs dirt, bacteria, and elements and traps them. While you can find many methods and techniques online to clean and repair your grout, these are often ineffective and time-consuming. Rather, you should hire The Grout Specialist. Here are several reasons why.
Experience
The experts who will come to your home have the experience and training to ensure any grout cleaning or grout repair job is done well. Whether the grout in your home needs a little love or a deep clean, we can help.
The Best Cleaners
The right cleaners will make all the difference between a good job and a great job. We use the most advanced and state-of-the-art equipment to ensure all the trapped dirt and grime disappears. Additionally, we use natural cleaners. There is no need to stress and worry as we will not bring any dangerous chemicals into your home.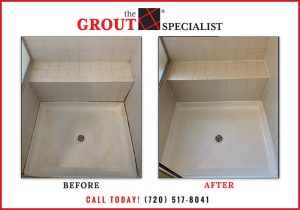 Variety of Services
Whether your grout needs cleaning, sealing, or repair, the experts at The Grout Specialist can help. Our wide range of services ensures you keep the grout and tile in your home in tip-top condition. You don't have to call several companies to have multiple tasks completed. We can do it all. Plus, it doesn't matter if your grout and tiles are on the floor, shower wall, or countertop, we can assist.
High-Quality Results
You can spend hours on your hands and knees scrubbing your grout, but with the help of a professional, your grout will look like new in little time. Our work speaks for itself and showcases the quality we provide to each one of our customers. Browse our Before & After photos to see how we can transform countless areas in your home.
If the grout in your Denver home could use a little TLC, set up a consultation with The Grout Specialist today. Give them a call at 720-923-8984 or schedule an appointment online.