Transform Your Kitchen with Grout Repair and Replacement
When people think of kitchen remodels, they usually think of installing new appliances and tearing out the cabinetry. The truth is that changing the look of a kitchen can be a lot easier and cheaper than you think. Let us show you how our grout repair and replacement services can help you get the kitchen of your dreams without all of the hassles.
Small Details Leave a Big Impact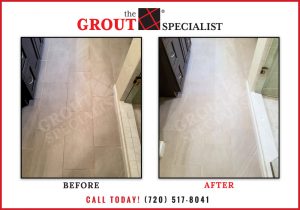 Before you spend money on an expensive remodel, think about the small ways you can improve your kitchen. The floor tiles and backsplash are usually the first things people see when they enter a room. If the tiles are worn or outdated, they can create a very negative impression. Old grout can also make these areas look incredibly dated.
Think about your kitchen floor and how it pulls the look of your room together. Talk to a tile specialist to determine the best way to improve your floor. Then, select a backsplash that compliments your new floor.
Cabinet Top Resurfacing
While it can be tempting to rip out your old counters, it is important to remember that tops can be resurfaced or replaced. Resurfacing or replacing the counter tops allows you to extend the life of your existing cabinetry while getting the exact look you want.
Add a Splash of Color
Color is also incredibly important when it comes to the look and feel of a room. Select a warm tone that matches your perfected kitchen floor, backsplash, and countertops. After painting the walls, you may want to consider recoloring your grout to match. Matching will help you create a very unified, modern look.
Talk to an Expert
Creating the perfect kitchen can be easy when you have the right specialists by your side. For efficient grout recoloring or tile repair, contact the Grout Specialist today.